COVID-19 update for customers
While we've all enjoyed parts of normal life return and restrictions ease this summer, it's clear that the impact of COVID-19 continues to affect us all.
We've seen it in our backlog of repairs and just like many people, lots of our hard-working front-line staff have needed to self-isolate after being contacted by NHS Test and Trace.
These factors have all affected the normal routine repair service you receive from us.
Your repair service isn't quite back to normal, but we're working hard to get there
We're pleased to be able to provide a full repairs service in your home however, at the moment we're prioritising urgent and emergency repairs so this does mean that our routine repairs service is being affected by delays.
This is also affecting our planned kitchen and bathroom upgrades, plus some boiler replacements.
We know how disappointing it can be when a repair or upgrade gets cancelled or rearranged at short notice. We're working hard to reduce the waiting times you experience, but we expect to continue seeing delays to our service into the autumn.
We've kept a record of all the repairs you've logged since the third lockdown in January 2021, so please be reassured that you don't need to do anything if you've reported a repair. We'll be in touch when we've arranged a new date for this work to take place. We do however ask that if you or a family member are self-isolating or have COVID-19 symptoms please contact us to re-arrange any booked appointments for repairs or planned visits.
Our priority is your safety
As ever, our priority remains the safety of both you and our people, and we'd like to take this opportunity to thank you for your ongoing support and understanding.
As restrictions have eased, it's now up to individuals and businesses to follow government guidance to stay safe. We want to make sure everyone feels comfortable when we visit your home, so for the foreseeable future we're keeping some measures in place.
This means that we'll continue to wear a face covering in your home and we ask in return that you maintain social distancing during any visit. Here are a few other safety measures we're keeping in place: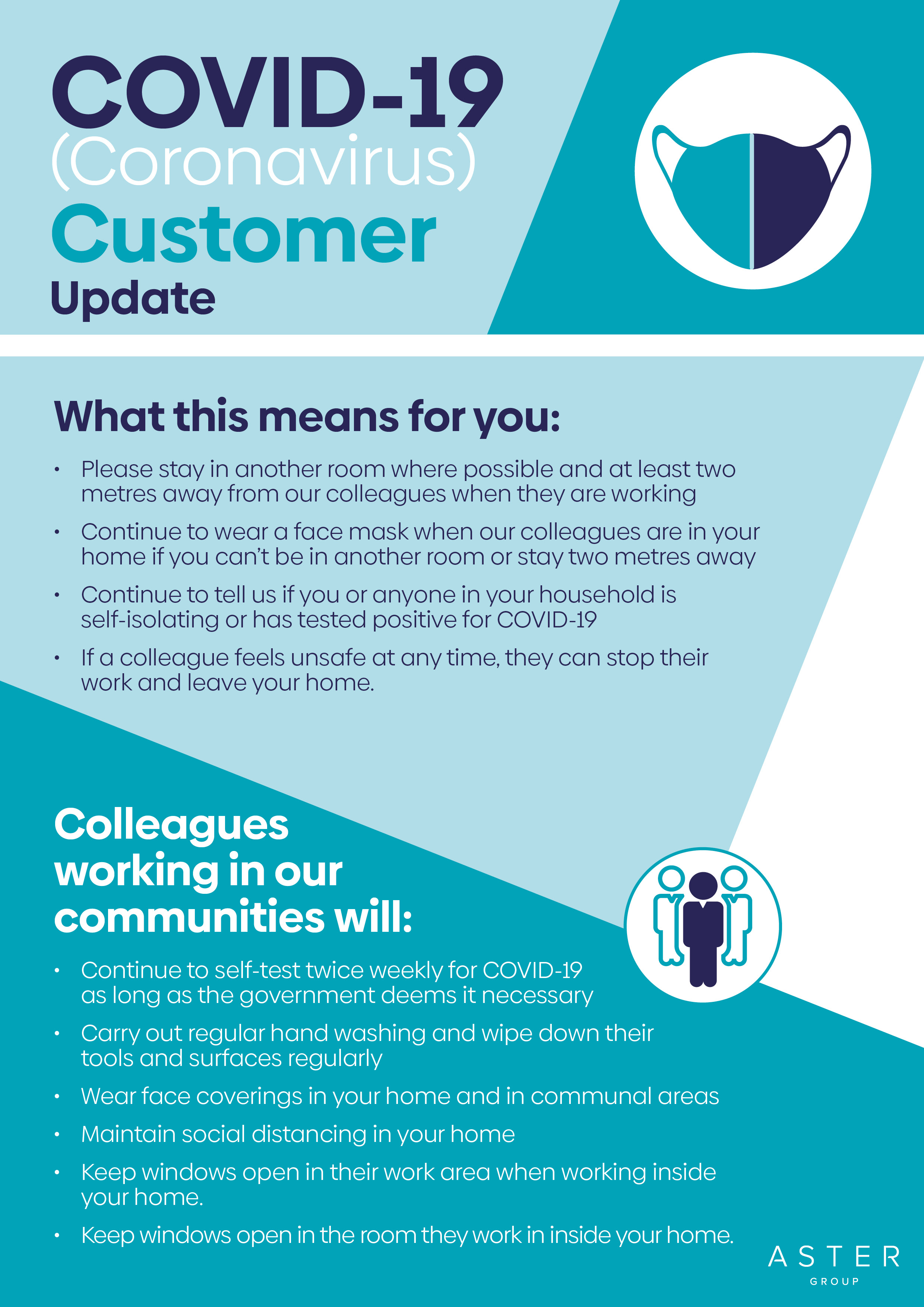 Over the last 18 months we've adapted to the challenges caused by the pandemic and we'll continue to listen to government guidance and follow advice from our own risk assessments.
Our contact centre is particularly busy at the moment so to avoid waiting in a queue to speak to us you can also reach us through our MyAster portal, via email, or via our call back system, which will hold your place in the queue and we'll call you when you reach the front.
Many of our people, including our Contact Centre advisors, continue to work from home and juggle childcare and caring responsibilities while doing their best every day to support you at home.
We're proud to be part of the Service with Respect campaign to make sure that all customer service workers are treated with respect while doing their job.
Once again, we'd like to thank you for your ongoing understanding and we'll continue to stay in touch about our services in the coming weeks and months.
FINANCIAL SUPPORT TO YOU
We understand that you may be concerned about your finances, especially at the moment, but please be reassured we will work to help you as much as we can. 
We have created an advice page to answer some of the questions you may have and we have a dedicated team of highly skilled people who are available to support you.
Our Financial Wellbeing and Customer Accounts teams are ready to help as much as they can, and we would encourage you to talk to us about your financial situation if you are worried. 
We have a money advice tool that can help you to budget for rent and other charges, food and utilities.  The Department for Work and Pensions has issued guidance about claiming support through Universal Credit. 
The Quids In! magazine, which we provide free to our customers, has updated its website to offer a host of money advice, tips and support.
Our Into Work and Financial Wellbeing services are available should you need them and our teams can support you through this period by helping you access work opportunities or offer help with managing your money. 
We're working hard to make sure we don't add to your worries at this time and ask that you keep in touch with us about your situation. If you are concerned about paying your rent or other charges, please call us on 0333 400 8222.        
EXTRA CARE AND SHELTERED SCHEMES
We're carrying out a routine repair services inside your home.
We can also confirm that following further consideration of our current risk assessment we have opened our communal spaces to our customers and their visitors. Any outside groups will not be able to use these spaces until they have provided an updated risk assessment and we further open these spaces for their use on 19 July. Customers are invited to enjoy these spaces keeping in mind the current government guidance. This is of course subject to change should the government review their restrictions or if we have any reason to close due to an increased risk posed in individual schemes.
Please follow latest government advice when moving around the building, keep at least two metres from others and wear a face covering at all times.
For more information please see our Coronavirus advice for Extra Care schemes page. Full guidance can be found on the government website.
Your health and safety and that of our colleagues is our priority and we are led by the government and our own risk assessments. 
For more information please see our information for Independent Living Customers.
CORONAVIRUS ADVICE FOR EXTRA CARE SCHEMES
CONTACTING ASTER
Until further notice our offices remain closed to customers. Our Neighbourhood Officers will be out and about as normal conducting estate inspections, but we would ask that any contact with them is made by phone.
Our teams are here to help you. Our contact centre remains open and you can still reach us by calling 0333 400 8222, through My Aster or using our contact form. 
HEALTH ADVICE
If you feel unwell and have any of the symptoms of COVID-19 – fever, cough, muscle pains, or loss of smell or taste – please follow the Government's updated advice on the precautions you need to take. 
RISK ASSESSMENT
Our high level risk assessment provides an overview of the controls we have in place to help keep our people and customers safe. This document is updated and reviewed on a weekly basis. 
USEFUL LINKS