Gas safety
As a Leaseholder/Shared Owner, it falls under your responsibility to arrange an annual service for all gas appliances within your property with an engineer who is registered as Gas Safe.
In 2020 the Gas Safety Project was launched to ensure all properties are following Health and Safety standards. Each year we will now request a copy of your most up to date Gas records covering multiple checks that would have been carried out during your Gas service.
As of 2021, we will also be requesting records relating to any other heat source you may have in your home, the service will need to be carried out by an engineer registered as an approved installer. Ensuring that your heating source is serviced regularly will not just save you money with improved efficiency but can also save lives.  
Easy steps for fire safety
Fires in the home kill hundreds of people in the UK every year. Small fires are more common, but they can still cause serious injuries and damage homes and possessions.
Test your smoke alarm once a week by pressing the test button and holding it until the alarm sounds
Change the battery in the alarm once a year, unless it is a 10 year alarm or connected to the mains
Make a fire action plan so everyone in your home knows how to escape if there is a fire
Keep doors and windows clear so that people can escape if there is a fire
Make sure the keys to doors and windows are easy to find
Be extra careful in the kitchen. More than half of fires in homes happen during cooking
Be extra careful when cooking with hot oil. Think about buying a deep fat fryer which is controlled by a thermostat
Never leave candles lit in rooms no one is in, or in rooms where children are on their own
Make sure candles are in secure holders on a surface that doesn't burn and are away from anything else that could catch fire from the candle flame.
Make sure cigarettes are stubbed out properly and are carefully thrown away
Never smoke in bed.
Get into the habit of closing doors at night
Don't overload electrical sockets and always switch off and unplug electrical appliances when they're not in use
Keep matches and lighters where children can't see or reach them
Be extra careful when you're tired or have been drinking
For more information, please visit
https://www.gov.uk/government/collections/fire-safety-guidance
http://www.fireservice.co.uk/safety/
Fire advice for customers living in blocks of flats
To improve our fire safety within blocks of flats in 2020 we launched the Fire Door Project. This is an ongoing project where we offer a reliable and certified contractor to replace the front door to your flat, as it is now required for all flats to have a fire-safety compliant door fitted.
As a Leaseholder/Shared Owner it is your responsibility to obligate the funds for the fire door replacement, however, we will arrange the contractor who fit many FD30s rated fire doors in our other properties for you.
If you chose to arrange for your fire door to be replaced independently a certificate of compliance would need to be provided to us after the replacement.
FAQs
We carry out regular fire risk assessments in all communal areas in the blocks and sheltered schemes we own. Any actions identified are dealt with in a timely manner and blocks and schemes are regularly checked by our housing officers.
It's important that you ensure that all corridors are clear from obstructions and rubbish as these are your escape routes in the case of an emergency.
Yes. Please take time to read the 'Stay Put' guidance (below) which you should follow in case of a fire.
If you are directly affected by smoke or fire in your own flat then you should leave immediately.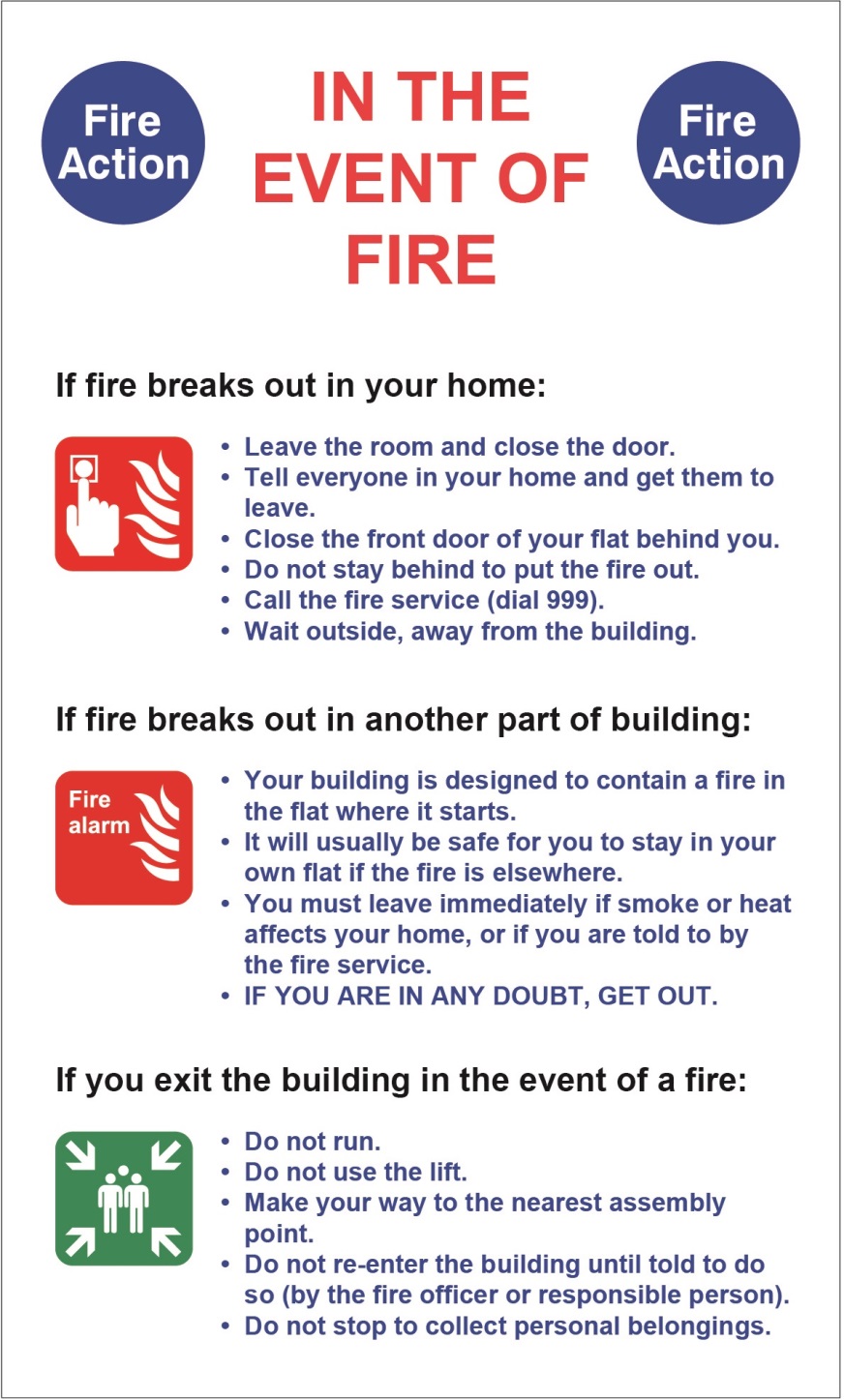 Fire safety procedures are issued to all new customers as part of their introductory sign up pack. They can also be found on Fire Action Notices which are posted in your communal stairwells, usually located near to the entrance/exits.
All refurbishments are carried out in accordance with strict building regulations and approved by the relevant authorities. Any newly fitted communal fire safety alarms are commissioned and then tested weekly to ensure they are fully functional.
All of our doors are to the standard recognised at the time of construction and are upgraded on a works programme. When upgraded they are fire rated to 30 minutes protection.
All of our premises are inspected periodically to assess whether they meet current building regulations for fire compartmentalisation which should offer between 30 - 60 minutes of fire protection.
You can press the test button yourself to check your detector is working. It is recommended that you check your own alarms weekly.
Yes communal fire alarms are tested on a weekly programme. If you are unable to hear the fire alarm during the test please speak with your housing officer.
If the fire alarm activates most lifts will automatically be taken out of service so even if you press the button to call the lift it won't come.
If it's safe to do so stay in your flat.  Use your phone to inform emergency services and go to the window so that you can be seen from outside.
If in doubt always dial 999 for a fire emergency.
If you would like a copy of the fire risk assessment for your communal block it can be requested by emailing healthandsafety@aster.co.uk