You're settled into your new shared ownership home and summer is almost here. Now you're thinking about that lovely new garden. If you're looking for some ideas on how to plan your outside space, take a look at my blog on creating a garden you love here.
Or, if you're looking to enjoy your outside space and save project garden for another time, I have some easy ideas to get you started.
Garden seating
Adding a seating area to your garden is a quick way to extend your living space outside. Now I know garden furniture sets are rarely budget friendly, you can splash out or save here depending on your budget, I've found some ideas for you…..
Splash out with this set, you could move the table aside for a more casual set up. Don't forget to buy a furniture cover to keep the furniture set in good condition.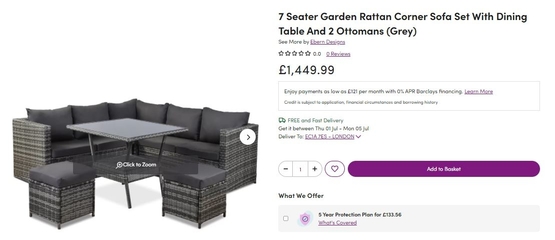 Save with this casual seating set, you could add some outdoor scatter cushions or a throw for those chilly summer evenings.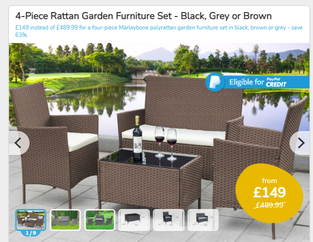 Shop around or try making your own with some old pallets. You can often find pallets on facebook marketplace. Megan our sales negotiator for Devon Cornwall & Somerset did just that and it looks great! It can look as homemade as you like or add some cushions, box it in, no one would know. You can find a lot of DIY ideas & a how to on Pinterest.
 DIY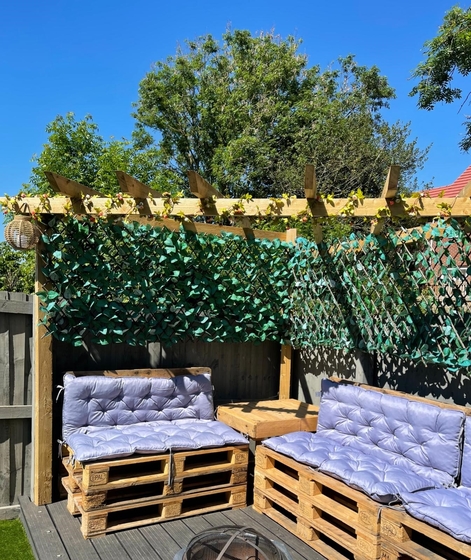 For you extra pet lovers, why not let your pet lounge in garden heaven too? A garden pet bed & I'm not talking a kennel. Or how about a hammock? Etsy & Pinterest are full of ideas, you could make one yourself. A great way to incorporate them into the garden too! After all our pampered pets need somewhere to relax too.
Here's some ideas on garden furniture for the kids, pets and you......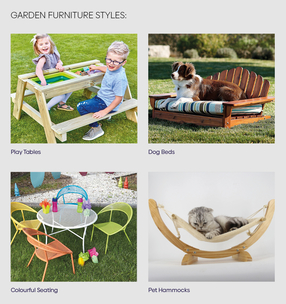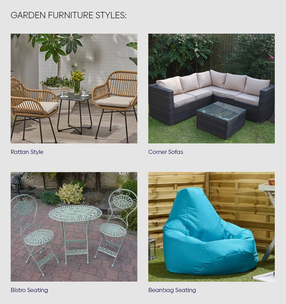 Garden accessories
This can be from cushions, lights, decorative bits like a mirror or outside clock to pots & planters. You can start building your outdoor décor collection if you are postponing a garden makeover, so it's not a huge cost all at once. Lights are a great way to keep the atmosphere going on those summer nights or to add a focal point. There's plenty to choose from solar, battery, lanterns etc & you can pick these up in most stores now like B&M or online. If you don't want to manage a planted area of your garden, then why not add in some pots? We added in additional colour with pots, we added some annual plants in pots (they'll just flower this year, meaning they can be changed to what plants we fancy each year) We also just reused plastic plant pots we've collected over the years from other plants we've bought, this is good for the environment and our pocket. Pinterest and Instagram have lots of ideas on pots and how to fill them up for a good show.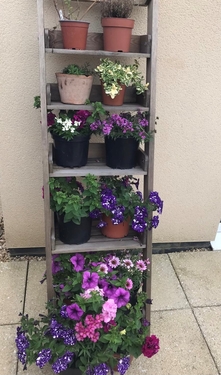 Another great garden hack is making an old pallet it into a planter, again you can find lots on information on how to do this online & Pinterest. I upcycled our old pallet into an herb garden, not only does it look fab its practical too! You can purchase chalkboard stickers/signs for the labelling, meaning you aren't restricted to what you plant in there or could change it yearly.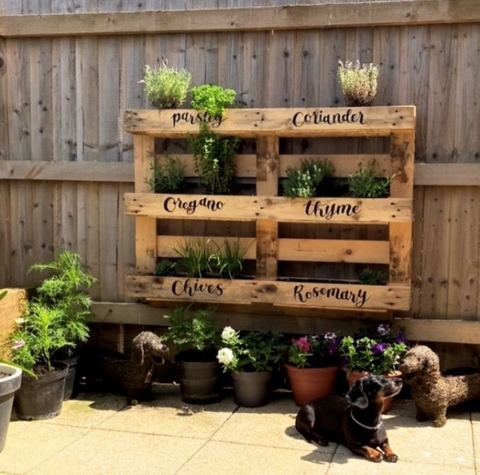 My husband & I had planned to do our garden makeover the spring after we completed on our Aster shared ownership home because we love being outside & it was another social area of our home. This meant we had budgeted & saved in advance for this as garden makeovers can get expensive. However, for us it was worth the cost and you'll find us enjoying the summer sunshine outside as much as we can.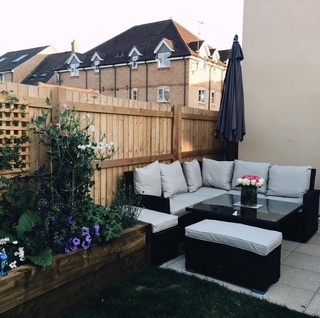 I hope with these ideas you can enjoy your outside space this summer. Time to pop your feet up & enjoy!
If you are an Aster shared owner don't forget to tag us into your garden social media posts with #ThisSOthing for your chance to win £250 voucher.