Take inspiration and think outside the box with home decor. Apparently 'pink' so no longer 'cool'. Well, that's according to our 12 year old daughter who when questioned about re-painting her playroom, told us that 12 years of pink had become tiring! (#diva)
We (me, hubby, 12-year-old daughter and Elsa the dog) moved into our house a couple of years ago to which the previous owners had added a ground floor extension which gave us a playroom area. This was perfect because our daughter's bedroom in this house was smaller than previous, but having a room for toys, books etc. took a bit of the strain off. Other than a fresh coat of her chosen pink colour we had done little else in there and to be fair it had served its purpose well, occasionally being used as a guest room also.
We decided we wanted to create more storage and make it a bit more 'grown up' so set about looking at what we could do, there were several issues to overcome which included the room being long and narrow, a soil pipe from the adjacent shower room running inside a box along the floor and centrally mounted radiator.
Lots of research on the usual bright ideas websites uncovered a genius 'hack' for some cupboards sold by the largest Swedish furniture and meatball manufacturer known to man! In essence these floor standing cupboards were narrow enough not to encroach into the room too much but also at the same time to sit on top of the problematic soil pipe meaning it could be hidden from view. Elsewhere in the house we had made great use of vertical radiators which are a space-saving gift and actually often more efficient than their traditional counterparts. The existing centrally mounted radiator in the playroom was on the long wall above the soil pipe meaning our intended run of units would require it to be moved and replaced with a vertical radiator. Mounted neatly on the right-hand return wall this allowed us make use of otherwise dead space whilst also providing a bit of a focal point in the room.
Once the radiator was moved we set about painting the walls with a super nice blue hue which I had actually seen in a friend's kitchen, it was quite daunting painting it onto our walls as it went on so dark and with two walls covered it looked quite moody..…. We ventured on and took delivery of the cupboards which hubby promptly put together, these were white and chosen because we thought (hoped!) it would reduce the impact of the blue somewhat.
When they were all built they were lifted into place and fixed to the wall; this was really important as our daughter would be going in and out of them so had to be securely fixed in place. Their final position of standing on the soil pipe box and being fixed to the wall actually proved really sturdy and I was really happy with how it was starting to look. Doors on and cupboards filled they literally swallowed everything asked of them with room to spare!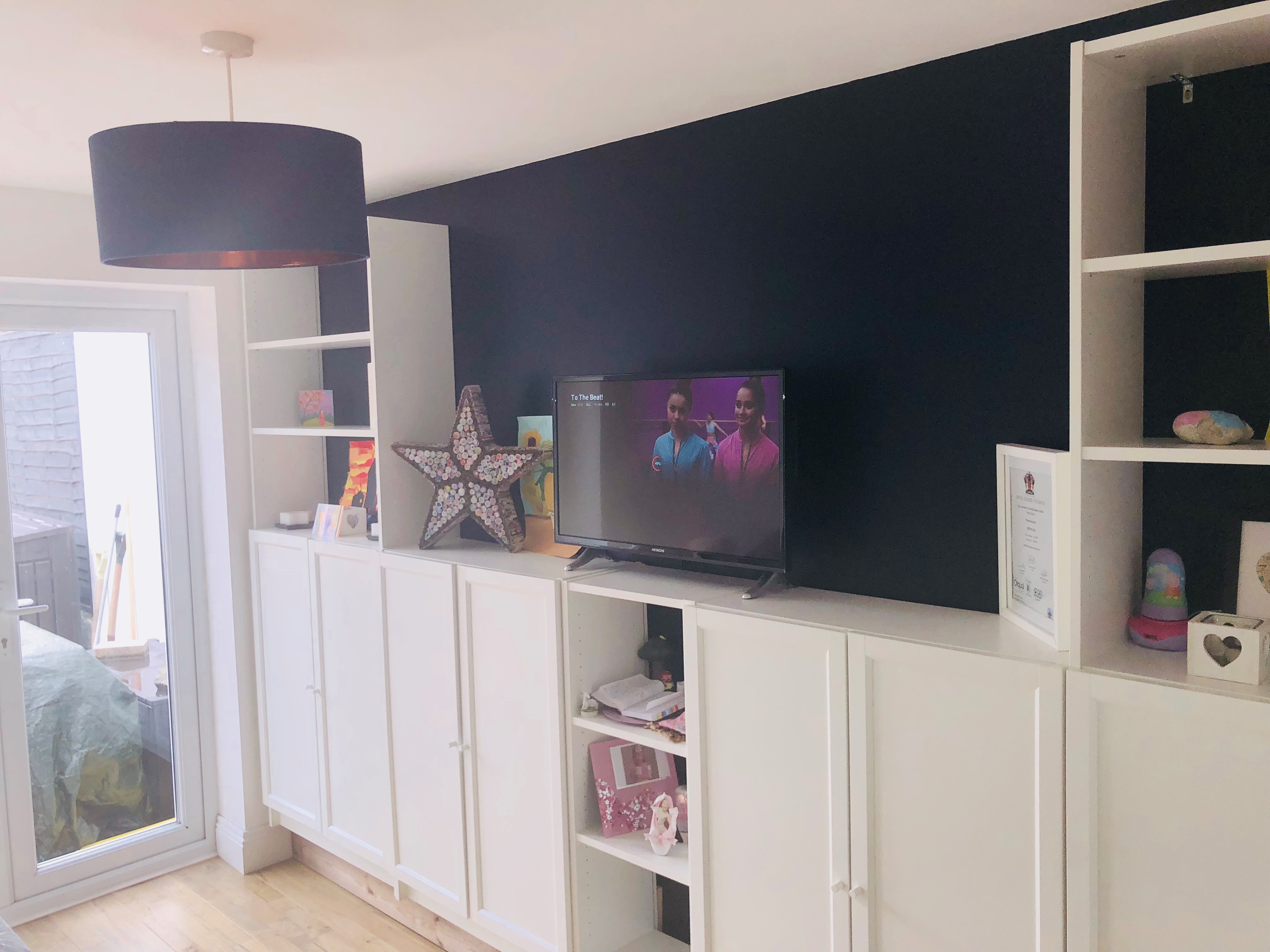 A matching blue light shade, some accessories on the shelf, some new cushions and soon to be installed vertical blind in the French doors and new skirting board and suddenly we had a very relaxed and grown up room. The blue colour of the walls is broken up by the open backed shelves, the impact lessened further by a white day bed and of course that white vertical radiator. It feels like a completely different room now and already we have had some family movie nights in there and our daughters first sleep over!
Want your creative expression to flow on a new shared ownership home? Find out more here.