Pinterest is my FAVE app ever, even over Instagram and twitter! I use it for everything (that isn't an exaggeration). I use it like Google search, need a recipe? Looking for outfit ideas? Storage ideas? Hair styles? Just search it and voilà!! Tons of images and links to websites!
I use it the most for home and garden inspiration, which is perfect for any house hunter or home owner looking for inspiration to spruce things up!
So, for anyone who isn't currently using Pinterest, I will explain how I use it and why I LOVE it. Hopefully by the end of this you will love it too!
The app is free (great start)! When you see an image you like, 'pin' it to a board which saves it - think of this as your mood board. Name your board whatever you wish, I generally keep it relevant to what the board is about, so for example; kitchen ideas, quotes, cleaning hacks or recipes, you get the idea.  
Enough about me, how could this work for you? Not sure what to do with those new build magnolia walls? Try searching the room for ideas, such as lounge ideas or bedroom décor. That plain garden? Search garden design or garden ideas. Here is where Pinterest comes into its own! Once you have searched your subject, it will come up with some other words you can narrow your search with, so start with garden ideas, then select another key word such as, small spaces, cheap or easy. Filter to your hearts content, although the more filters, the smaller the number of results!
You will of course come across some show stopping, mega money ideas. However, don't be put off, these are a great starting point and can be adapted to your budget. These days you can find similar products for most budgets, making it easier to create any desired look.
Why not upload your own images to Pinterest, so if you are creating mood boards this is perfect if you wanted some more inspiration for a room or space.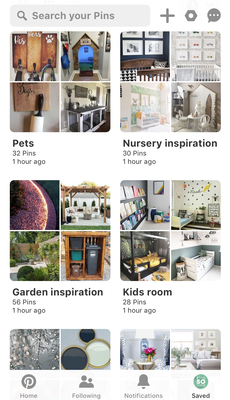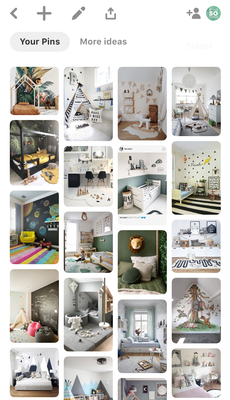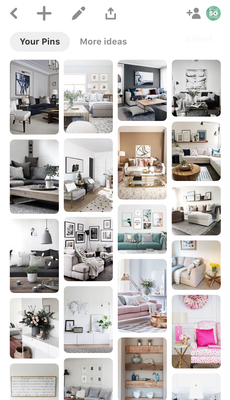 You can also follow other people's boards, great if you come across someone with similar taste, give them a follow and see what they are pinning. Or follow your friends, send them ideas for their boards privately like a direct message. How about a joint board? Planning a garden party? Kids party? Add in your friends and pin ideas together!
You can also make boards 'secret' meaning no one else can see what you are pinning! Perfect for parties, weddings or gift ideas!
I use Instagram in a similar way, however you can't organise any saved images like you can on Pinterest. You could always screenshot an Instagram post and add to you board on Pinterest if you wanted to collate a mood board.
This isn't a full guide to Pinterest, just a whistle stop blog on how to get started.
So time to get pinning!
Why not take a look at Aster's Pinterest boards for some inspiration for your new shared ownership home?
Search Aster or follow this link - https://www.pinterest.co.uk/SalesAster/boards/

#BeInspired