I love this time of year, the cosy nights at home, endless amounts of hot chocolate, JUMPERS, the good TV programmes are back, Halloween, bonfire and then CHRISTMAS! I know I said it! 
After spending all summer in the garden, see my previous blog on creating a garden you love, and you'll see why! Its nice to be back indoors all cosied up, I love decorating for autumn and Halloween and wanted to share some things I do with you.
Autumn is the perfect time to get creative! Collect some beautiful autumn leaves to make into a wreath for the front door. Simply bend a wire coat hanger into a circle and thread the leaves through. A great Pinterest find! Or collect pinecones for decorating shelves or fill a vase with them like I have. The autumn scented candles are back! (YES)
I don't like to start the pumpkin decorating too early as they will start to deteriorate and who has the time for that, so I was on the look out this year for some decorations I can use year after year. Anyone who has looked for these types of decorations will feel my pain on how little is available, I searched high and low for ornamental pumpkins, nada. Independent shops on Instagram do occasionally have pumpkins this time of year but from what I have seen they tend to be very popular and sell quickly. They also can get expensive unless you have the will power to only order one. As Halloween is huge in the states, they have so many great decorations, but I didn't want to order from America.
Finally, after lots of searching I found some cute wicker pumpkins, I found these on amazon, and they were reasonably priced. Poundland is one of the only shops I have previously found something in, last year I got a tea light holder and this year some mini pumpkins. I have seen an increase in shops selling halloween decor this year, even Next are selling pumpkin shaped candles. All these things can be packed away and re used every year, although I'm tempted to keep the wicker pumpkins out until Christmas!
Why not get a pumpkin themed doormat for the front of your house? I so wanted to do this but am never organised enough, I would want it out there ALL of October and November to get my monies worth. Letter boards are also a fun way to add a spooky or cheeky message, some great ones like "Creepin' it real" or "Its all Hocus Pocus" try Pinterest for more ideas on these!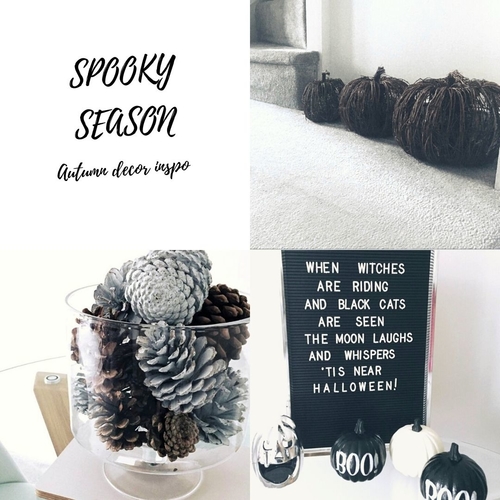 Now the fun part! THE PUMPKINS! I personally like to paint them, I find with carving them, you start then lose the will to live. Anyone with kids will know it starts off a team effort then the kids get bored. However, without carving a pumpkin you can't make all those delicious pumpkin recipes you wait until October/ November to have! To get around this I will buy a discounted pumpkin on November 1st to cook with.
Painting pumpkins is easier to be creative I think and less mess! You just need to prep them to save any early decomposing. To do this, you can wash the pumpkin in a water and bleach mix then dry upside down, or sealant spray them. I have never tried sealant spray, but it came up a lot when I researched on how to make the pumpkin last, if you do this let me know how it works for you!
Then when the pumpkin is FULLY dry its time to start painting. There are no limits here, get as creative as you wish. Pinterest has hundreds of pins for inspiration check out our Pinterest account for some. Paint wise, I just use anything I can get my hands on, old wall interior paint? Or spray paint? Yup that'll do. You can draw patterns with a sharpie. I tend to have a colour palette I stick to which tends to be black and white. Here are some I have done previously;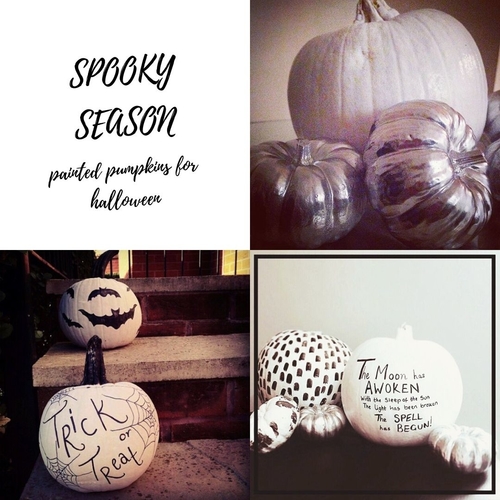 Don't forget to share your Autumn home décor ideas with us on social media to be in with a chance of winning £250!!!! Just share your image using #ThisSOThing to enter. T&C's apply and can be found on our website just click here.