Climate Change
This theme seeks to assess how the activities of the housing provider are impacting on climate change, and how they are mitigating the physical risks of climate change. This theme considers current practice, as well as the changes being made to improve performance in the future.
In order to provide a framework to manage our environmental risks and maximise opportunities, we operate an environmental management system, which is externally certified to the ISO 14001 standard. As part of this, we are continually seeking ways to minimise our environmental impact.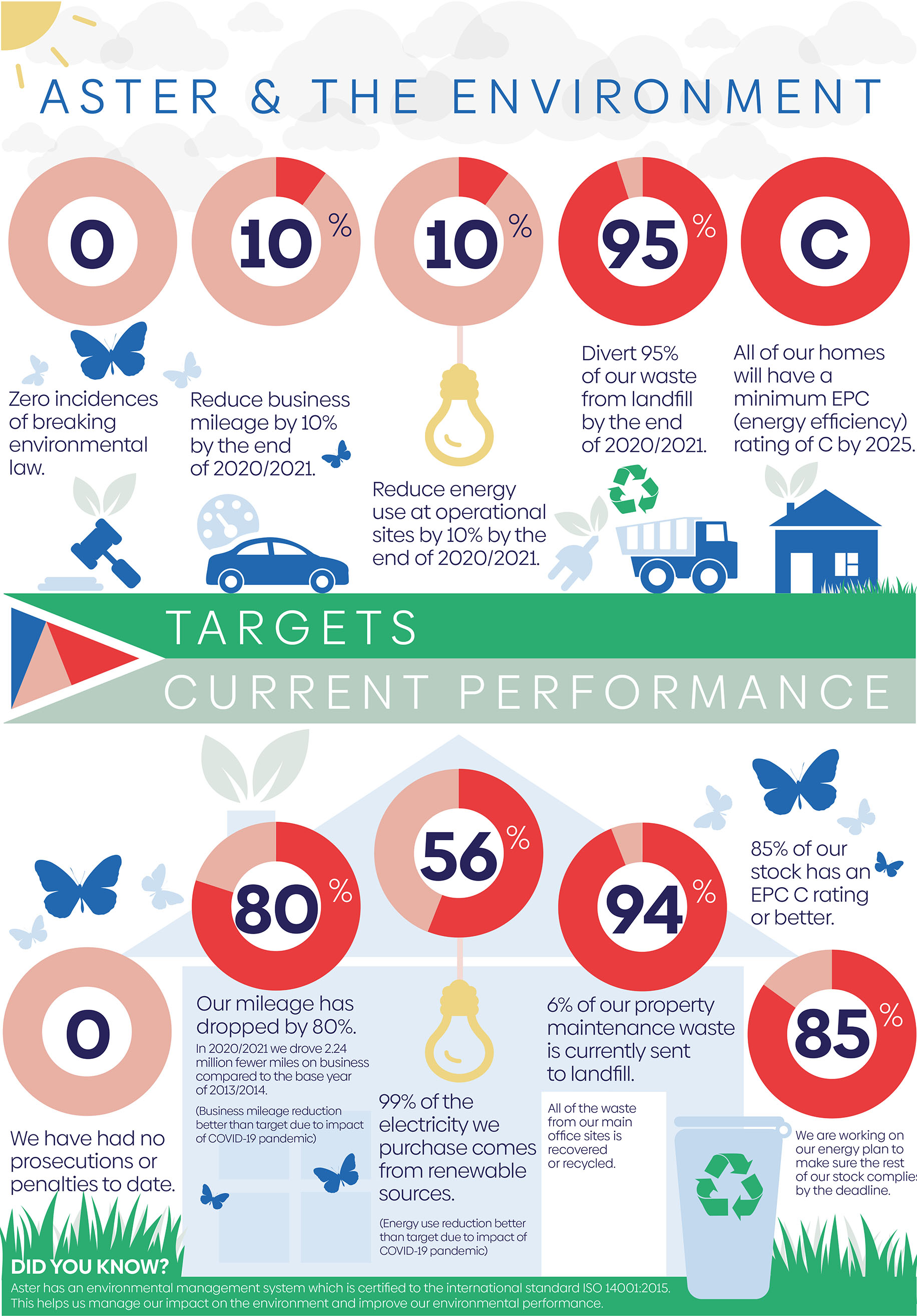 During 2020/21 we:
Added 18 new, fuel efficient vehicles to our fleet
Trialled fully electric and hybrid operational vehicles
Adopted a 'virtual first' approach to working for non-trades, reducing the need for our people to travel for business purposes
Ensured office space was used efficiently and building controls were optimised to reflect reduced building occupancy during the COVID-19 pandemic
Began a programme to install smart electricity meters at key operational locations
Replaced 23 inefficient communal boilers at four housing schemes with high-efficiency models (minimum 95% efficient) and upgraded the plant controls at these locations
Continued to roll out our Warm Homes project to reduce fuel poverty in up to 400 of our homes by installing central heating (works scheduled to be completed by December 2021). This is helping to bring these properties up to an EPC C standard or better, supporting our target for all homes to have an EPC rating of C or above by 2025
Became a founding member of the GHA Pathfinder Network. The main aim of the network is to facilitate housing associations to adopt enhanced sustainability, quality, health and performance standards for new housing developments. As with the GHA Vanguard Network, this will be achieved through sharing best practice, creation of new resources and guidance, and conducting original research and demonstration projects.
In 2016, we set out our Energy Plan which aims to ensure all our homes have an EPC rating of C or above by 2025, five years earlier than the target set out by Government. As of March 2021, 85% of our properties met this requirement, and 97% of the homes we built in 2020/2021 had an EPC of B. The corresponding figures for the environmental impact rating are 71% and 97%.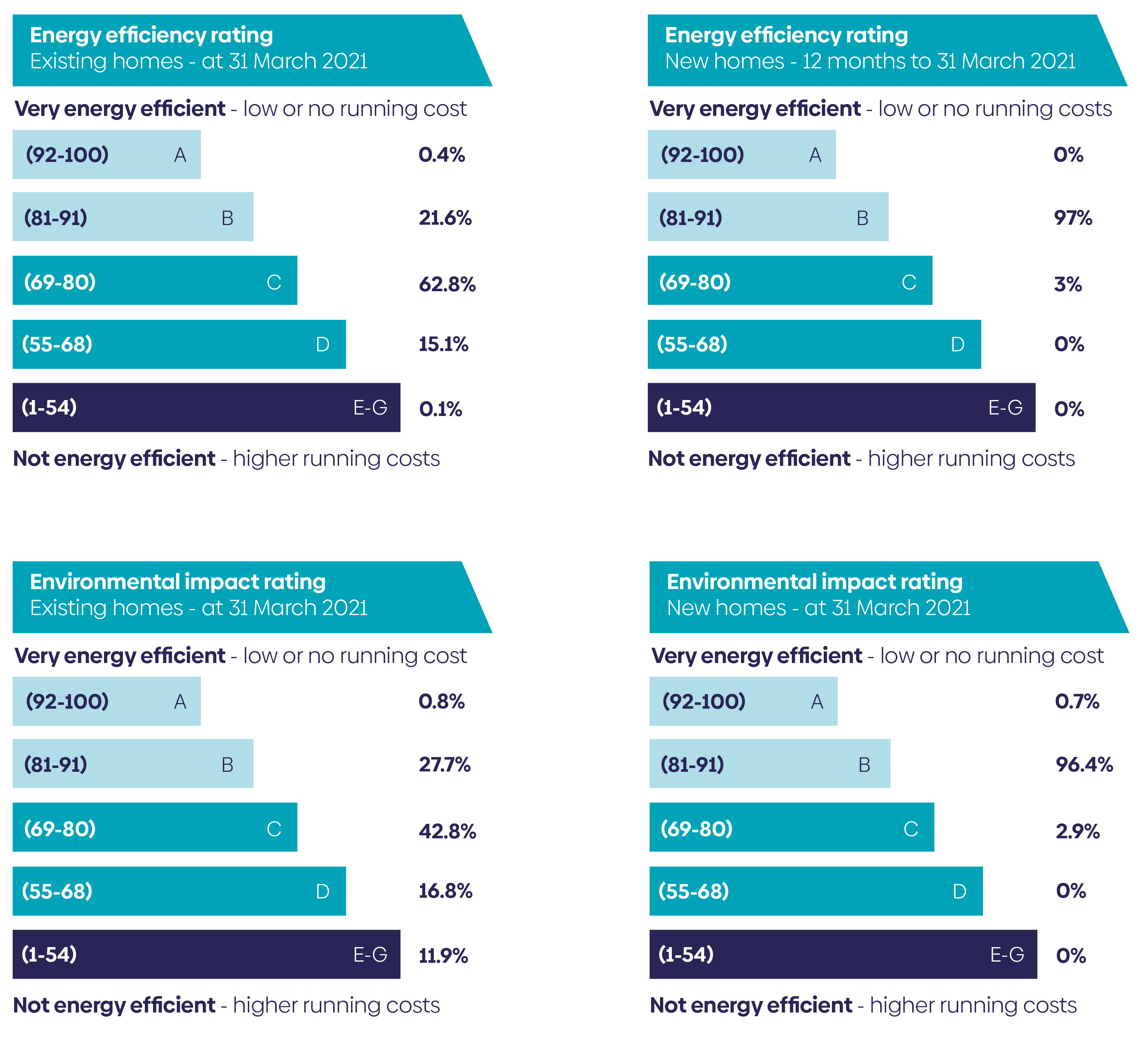 During 2020/2021, the average energy performance of our homes improved by 0.4 Standard Assessment Procedure (SAP) points, and our average SAP rating at the end of the reporting period was 74.6, which is above the sector average of 69 (as at the 2019 reporting date).
In practical terms this means we have approximately 4,300 homes that we will need to improve or dispose of before
2025. Our void disposal programme and options appraisal processes consider options for poorly performing assets
(assessment criteria cover factors such as energy efficiency, age, and maintenance and repair obligations), including
disposal where the SAP rating of a property is below 65. We will continue to review what measures can be taken to
improve the overall energy efficiency of our stock and a newly established Strategic Asset Management Group will help develop a holistic approach to how we undertake a whole series of stock enhancements. In addition, we continue to explore what external funding and partnership opportunities might exist to help further expand our energy
efficiency programmes. This includes exploring the potential of the national Green Home Grant - Local Authority Delivery Scheme, and the Social Housing Decarbonisation Funding programmes during the latter part of 2021. The above alongside our scheduled programme of works through major repairs will help to improve the EPC ratings of our stock
Our Asset Management Strategy also outlines that we will make a positive contribution towards a net carbon reduction, improve the energy efficiency of our stock and limit the impact it has on the environment. We have a small development of highly energy efficient Passivhaus homes near Liskeard in Cornwall. Built in 2012, these 20 properties comprise a range of tenures and property types. We continue to monitor the performance of these homes in order to help give us an example of the long-term benefits of more sustainable builds.
Aster Solar Limited is a special purpose vehicle (SPV) for investment in photovoltaic panels on behalf of our other Group entities.
Through Aster Solar, our main activity is to provide green electricity to our customers through the installation of photovoltaic panels on existing properties.
The alleviation of fuel poverty amongst our customers is a key objective for Aster Solar, together with the ability to generate profits that can be reinvested into charitable activities. 
To date we have:
Installed 745 domestic solar PV systems on some of the least efficient homes in our portfolio
Helped install a further 263 systems not financed through SPV
Achieved an EPC of C or better on these homes as a result, in line with our EPC target of C by 2025 
Enabled affected residents to save between £100 and £200 per annum on electricity bills together with reducing carbon emissions by one tonne of carbon per home, per year.
We continue to explore opportunities to grow and increase the percentage of renewable energy generated across our homes. 
A number of activities are underway, including a pilot project to explore the new Smart Export Guarantee
payments for renewable electricity that is fed into the grid, with an initial target of 30 homes commencing during August 2021. The project is designed to test how much energy is produced and exported to the grid by properties with solar photovoltaic (PV) panels fitted. This will help us determine if it is viable to fit solar panels on the new homes we build, by assessing the extent to which the income received for the electricity produced will offset the capital and ongoing maintenance costs. Also, discussions with a number of local authorities continue to take place, with a view to developing joint renewable energy retrofit projects across parts of our communities.
Social
Our social themes, including affordability & security, building safety & quality.
next