This Saturday 6th July, our sales team attended and sponsored the Rowlands Castle Village Fair, a fun event for the whole family to enjoy which brings the local community together every year.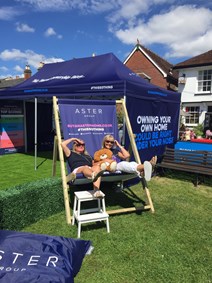 This year was eventful as ever, with food being served throughout the day, a bar and disco open until late and a Madness tribute act.
Louise, Nicci and Ashlea (not forgetting the Aster bear!) were on hand to answer any Shared Ownership questions people had on the day as we've a range of beautiful new 2-bedroom homes at Montague Green in Rowlands Castle from just £114,000* (making deposits from as little as £5,700*!)
We also had our prize catch game to play, where you could win £250 in a Crystal Maze-style game, which was enjoyed by people of all ages!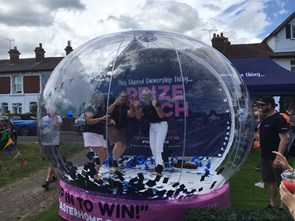 A successful day all around for Louise Long, our Sales Negotiator for Hampshire, who met with several local people who were interested in our homes for sale at Rowlands Castle and others who were interested in our homes coming soon to Havant.
Unable to see us this weekend? Don't worry!
If you can't make it to one of our upcoming events, our team are available 7 days a week to answer any questions you may have on 03304 044 862 or talk to us online via our live chat!
#ThisSOThing